Prescott Downtown Partnership welcomes new board members
Prescott Woman Magazine interviewed both Bailie Sanders, owner of Board & Brush Prescott, and Heather Burgoyne, owner of SOAR Pilates, as new board members of the Prescott Downtown Partnership. We learned about their new roles in downtown leadership, their goals, and why they love the PDP.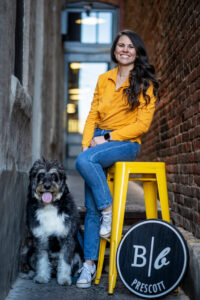 PWM: Tell our readers what brought you to Prescott and about your business:
Bailie: I am a fourth-generation Prescottonian and left for a while in my twenties, which is when I grew to appreciate my hometown. I grew up in downtown Prescott and would regularly walk from my grandparents' house on Virginia Street to the plaza. My favorite memories are on the downtown plaza. I am proud of my historical hometown and how much it has grown. Prescott is the perfect place to raise my family. A few years after moving back to town I purchased Board & Brush Prescott, a local paint and sip workshop, giving my community a creative outlet and fun atmosphere.
Heather: I went to high school in Prescott, and like Bailie, I moved away for a while.  I made the transition back to Prescott in 2019 with my husband and our son. We wanted to raise our son in a town where he would have space to play and have easier access to the great outdoors. To be honest, we wanted better air quality for him than what we had in Los Angeles. We wanted a stronger sense of community and support from family and friends. I had recently switched careers to become a Pilates instructor and Prescott seemed like the perfect place for me to open my own studio.
PWM: How is PDP different from other organizations and why do you enjoy it?
Bailie: I have been a member for six months and have noticed that PDP is different from other organizations because it's filled with long-standing business owners in the downtown Prescott area. I enjoy being a part of the team that makes downtown Prescott so fun.
Board & Brush Prescott is located in the Whiskey Row Alley. I love being in the alley and my neighbors are the best. I share a building with Back Alley Wine Bar and Western Heritage Museum. Throughout the day we will see volunteers dress in their best old west costumes right out my front window. It's my favorite. I also love being within walking distance of all the great food, city, and country buildings.
I am looking forward to my time at PDP and helping the next generation have a lifetime of memories on the plaza.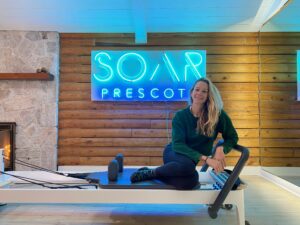 Heather: I have been a member for the past year, and to me, the PDP seems to host events that are accessible to anyone in the community.  They seem to genuinely care about the business in the downtown area as well as their growth all while keeping Prescott's hometown roots.
SOAR Pilates is just off Willis and McCormick and offers Reformer Pilates classes, and we recently launched our second studio space and now offer Mat Pilates classes as well.  We are beyond excited to bring in the mat practice as the two really supplement one another.  It is such an amazing feeling, and it allows us to welcome more of our community into the studio, which we are always eager to do!
I also absolutely love working downtown! On my way to work, I'll often grab a coffee at one of my local favorites, and on my breaks, I walk to get lunch.  I feel like I always see someone, too – someone is always driving by honking their horn and waving out the window.
PWM: Do you have family here? What about kids and other favorite activities?
Bailie: Some of my family is still local but most have moved away. My husband Shane is a local optometrist and my son Vincent is 11. We love traveling, DIY home projects, attending downtown events, and cheering on Vincent at whatever sport he is involved in. Looking forward to baseball season 2022!
Heather: Yes, my mom and dad are still here, and my sister and her family just moved back this past summer, which is so nice! I also have quite an impressive number of friends from high school who left after graduating, went on, and lived their lives, but have somehow made it back with their families. It is one of the sweetest things to see all our kids getting to grow and play together. I love it!
For more information about Board & Brush Prescott visit www.boardandbrush.com; for more information about SOAR Pilates visit www.soarpilates.com; to join the Prescott Downtown Partnership and start a connection with fellow business owners visit www.prescottdowntown.com