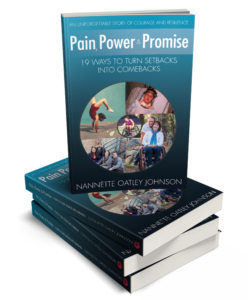 Author of: Pain, Power & Promise: 19 Ways to Turn Setbacks into Comebacks
Nannette Oatley Johnson is a wife, mother, nana, author, speaker, resiliency coach, and the 2001 U.S. Open Wheelchair Tennis Singles and Doubles champion.
For nearly 40 years, Nannette's life has been a living testimony to the power of resilience. She was a former gymnast, dance choreographer, and amateur actress until a broken neck altered her life in 1982. Following her injury, she married and gave birth to three children within three years as a sit-down person in a stand-up world. In 1989, when her children were five, three-and-a-half, and two, she began a single-parent career that encompassed nine years. During that time, she completed a Bachelor of Arts and then a Master of Arts in counseling psychology.
Today, she operates in nine different areas of resilience and offers:
Resiliency coaching for individuals, couples, and families based on a positive psychology model; resiliency support groups; resilient tools for life found in her book, Pain, Power & Promise: 19 Ways to Turn Setbacks into Comebacks;  her monthly blog; "Your Daily Dose of Resilience" quotes; her custom line of inspirational cards; Nutritional Resilience; Join The Strength's Revolution, and speaking (invite her to speak for your next event!).
Reach out to Nannette at: http://www.painpowerandpromise.com