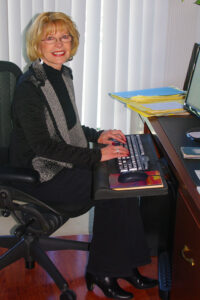 New York Times Bestselling Author Finds Inspiration in Prescott
According to New York Times bestselling author Kat Martin, living in the beautiful city of Prescott where she can swivel her chair toward a view of Thumb Butte renews her spirit and fires her imagination.  Writing can be reclusive, Martin says, particularly when you're obsessed with giving your readers the caliber of book they deserve.
Kat, whose romantic suspense and thriller novels have appeared on bestseller lists throughout her long career, didn't anticipate being internationally published in twenty countries or having more than 16 million copies of her books in print.
Before she started writing, Kat majored in anthropology at the University of California Santa Barbara. Learning about other cultures gave her insight into human nature—and that's part of what has made her novels so successful.
After graduation, Kat returned to her hometown: Bakersfield, where she'd grown up in a rodeo family. After a stint as a real estate broker, she moved to Missoula, Montana, where she still spends her summers. She married L.J. Martin, the author of more than 40 western novels.
While they kept a winter home on the shores of the Pacific, the two of them found Prescott—the Mile-High City with its Old West heritage, spectacular scenery, and outdoor recreation—irresistible. Drawn by all of those features and the area's perfect four-season climate, Kat and L.J.  made a spur-of-the-moment trip and three days later bought a Southwest-style home overlooking the city.
After adding an office, Kat had her Thumb Butte view, and soon they were immersed in Prescott's vivid art and museum scene.  The General Beale exhibit at the Sharlot Hall Museum especially piqued their interest, as L.J. had written a biographical historical novel about Ned Beale.  Rush to Destiny is a book dear to both their hearts.
Asked how she likes Arizona, Kat just smiles.  She's planning to write a romantic thriller set in the Superstition Mountains … the story is still percolating in her head.   In the meantime, if you'd like to find out why Kat is one of America's most successful novelists, you might take a look at her latest release, The Ultimate Betrayal.
Here's a synopsis: When investigative journalist Jessie Kegan's father, a colonel in the army, is accused of treason, she's determined to clear his name.  With danger coming from every angle,  Jessie turns to former Special Ops soldier, Brandon Garrett.  But time is running out and the game being played is deadly.  Working together, Bran and Jessie must risk everything to solve the riddle and confront the threat–before it's too late.
To learn more about Kat and her books, visit her website at www.katmartin.com).  Connect with her on Facebook (KatMartinAuthor) and on Twitter (@KatMartinAuthor).