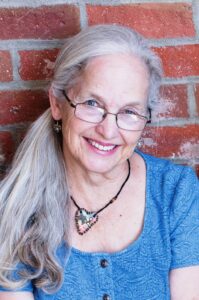 Raised on a cotton, alfalfa, and dairy farm in the small San Joaquin Valley town of Kerman, California, climbing trees and catching frogs in the irrigation ditch was a normal part of Diane Iverson's childhood. They also were a solid foundation for her lifelong curiosity about nature, a dominant theme in her work.
Diane is the author and/or illustrator of more than 20 books. Her illustrations are in the permanent collections of the Arne Nixon Center for the Study of Children's Literature in Fresno, California, and the Mazza Museum of International Art from Children's Books in Findlay, Ohio. She works primarily in colored pencils on the Bristol board and especially enjoys drawing North American birds and mammals. Her mural work (acrylic) can be seen at Highlands Center for Natural History.
Diane is a founding member of the Coalition for Compassion and Justice of Prescott, Arizona, where she worked with people living in poverty for 18 years. The combined themes of social justice and environmental justice are seen in her artwork and her writing. She is the recipient of the 2016 Albert Lovejoy Social Justice Award.
Diane and her husband, Doug Iverson, make their home in Prescott, Arizona. They have two daughters and seven grandchildren.
Learn more at https://ldianeiverson.wixsite.com/diane-iverson-author.