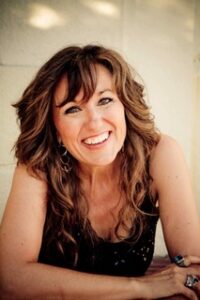 From the cornfields of Minnesota to the hiking trails of Prescott by way of Silicon Valley, this mild-mannered, high-tech-CEO-by-day morphs into a classic rock singer by night with raspy tones reminiscent of Janis Joplin. Author…well, that was an accident.
For years, happiness eluded Jenn Flaa — until she approached it (and how to sustain it) with her engineer's mind. After seeing her transformation, the men around her begged her to tell their ladies the "secret." Voilà! The Happiness Handbook emerged.
As we banish our Covid blues, this witty romp gently acknowledges your pain and guides you through tears and anger to smiles. Happiness is a choice – your choice – and The Happiness Handbook is your Sherpa on your happiness journey.
Jenn's second book, White Fawn, launches this winter.
Learn more at https://www.happiness-handbook.com and find The Happiness Handbook at Peregrine Books and Amazon. Check WingSpace and Yavapai College Community Ed for Happiness Workshops.