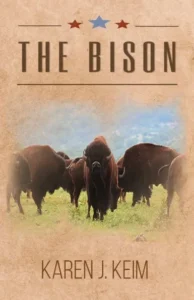 Author of The Bison
Karen J. Keim has been writing stories since she was 13 years old, following her father's spare-time nightly and weekend compulsion. She attended UCSB in California and UH at Manoa in Hawaii and received her teaching credential. She spent many happy years in second and third-grade classrooms. Her fiction book, The Bison, released in May.
After taking her first year of French language classes in high school, Karen became a Francophile. She later taught French to high school students and went to Paris for her honeymoon. The discovery that she had French in her DNA explained the plethora of Eiffel Tower statues, paintings, and posters decorating her home.
Karen wrote a Memoir of her life (Ruth's Daughters) and a Travel Diary (23 Hours in Air) about her one-month visit to Queensland, Australia, and subsequent engagement to a high school "crush," who is now a miner and orchid grower. She enjoys writing stories with historical settings and always includes a romance within a social issue that she feels strongly about, but mostly she's ecstatic when a reader tells her that they enjoyed the book!
Karen (rather) recently married for the first time. She lives in Prescott Valley, Arizona. She practices yoga daily, tutors privately, and enjoys hiking with her husband, Harry. Rubie, her Chihuahua mix, and Star and Jazz, her two Siamese (sisters) are all adopted and very much a major part of the family. Karen is currently working on a sequel to her first published book, The Coyote, which starts where she left off in her first book.