Through Their Yavapai Big Brothers Big Sisters Match, This Pair Explores New Things, Together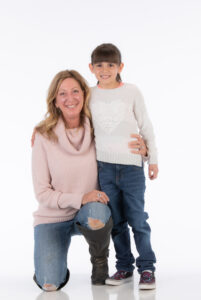 On a recent beautiful summer's day, Big Sister Rebecca Finken took her Little Sister Abigail on a paddleboard adventure on Prescott's Watson Lake.
This match made by Yavapai Big Brothers Big Sisters (YBBBS) is based on trust, friendship, and having adventures like paddleboarding to show Abigail, 10, what the world around her has to offer. The pair participate in video chats and projects, try out the local climbing gym, visit area attractions, and sometimes just hang out and talk.
Big Sisters like Rebecca are positively impacted by being connected to YBBBS and to their amazing Littles. Four years into their match, Rebecca said, "I am reminded that kids are resilient, tough, and intuitive. I have become more of all three being matched with Abigail."
Bigs ages 16 to 96 report they feel they can give back, stay engaged and active, experience new adventures, and gain an incredible connection that can last a lifetime.
YBBBS' one-to-one mentoring relationships support the critical social and emotional development needed to help build resilience and promote the mental health and well-being of the children the organization serves in Yavapai County.
If you are adventurous enough to paddleboard or if a day at a museum sounds more like it, there's a Little Sister or Brother waiting to share that activity.
Today, YBBBS has more than 100 local youth waiting for a mentor and friend just like you.
During the past 50 years, the agency has served more than 11,500 Yavapai County youth and their families with much-needed resources and through those decades, its mission of creating and professionally supporting one-to-one mentoring relationships that ignite the promise in us all has not wavered.
A successful match lasts at least one year; however, the YBBBS average is 46 months with the following proven outcomes for youth in our variety of programs.
Matched Littles are:
52 percent less likely to skip school.
55 percent more likely to enroll in college.
46 percent less likely to start using drugs.
More likely to make healthier lifestyle choices.
More likely to have enhanced self-esteem and confidence.
More likely to become more civically engaged.
Rebecca said Abigail's reading capabilities have grown since they've been paired, as has her willingness to try anything. "She is always willing to learn a new skill or sport. I love that about her."
YBBBS continuously and professionally supports its matches throughout these fulfilling relationships with Littles ages six to 24–impressionable ages when youth form their values and future plans
For as little as eight hours a month, you can share parts of your life with a local child, knowing that the littlest things can be powerful, like taking them grocery shopping, preparing a simple meal together, talking about their hopes and dreams, and more.
"Now more than ever, supportive programs such as Big Brothers Big Sisters are needed to safely and intentionally assist youth through these uncertain times with an eye on the future," said Erin Mabery, YBBBS Executive Director.
To learn more, visit azbigs.org or call 928.778.5135.