Two modern local ranching women share their stories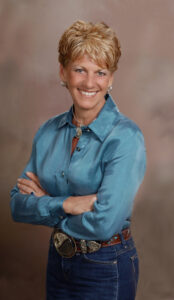 Broken Horn D Ranch – From a hobby to a lifestyle
Kim McElroy and her husband, Dave Pawel have lived in the Prescott area for more than 20 years, leaving behind the cold Ohio winters.  The couple got involved in ranching when they needed cattle for Kim's horse training operation and Dave's team roping, so they began leasing from stock contractors. One year, they bought a couple of heifers to rope; when they outgrew the roping chute, Kim and Dave turned them out with a friend's bull.  When the calves were born, they raised them, sold the steer, and kept the heifer. The couple started their breeding operation with just three cows and have turned it into the Broken Horn D (BHD) Ranch.
Kim and Dave operate the BHD Ranch, north of Prescott in the Williamson Valley area, with a unique ranching model. They personally own 150 acres, which is their headquarters.  This space includes horse barns, hay barns, a bunkhouse, and about 50 acres of irrigated hay fields and pastures.
One of the more unique features of their ranching model is the use of grazing leases with various local property owners. The couple started this with the original "Dove Tail Pasture" of 650 acres and building up to the current usage of 4,300 acres. The benefits for the property owners they lease from are twofold: reduced property taxes and cleaned-up land; the grazing reduces fire hazard, keeping drainages operational and improving the soil.
BHD Ranch produces certified grass-fed, all-natural beef, with no hormones, no antibiotics, and no animal byproducts, as independently verified by TechniTrack, LLC.  Kim is a certified Beef Quality Assurance Producer. BHD beef is processed locally at Perkinsville Meat Processing and BHD sells the beef direct to customers, as whole or half beef.
Kim said of the ranching lifestyle, "Ranching is truly a lifestyle, a lot of hard work, all day, every day. We don't take vacations. What I enjoy the most is working with the animals; riding out horseback to check cows or gather and brand calves or gather steers to go to the processor."
Kim and Dave operate the ranch alone, with day help hired at branding and weaning times.  Within the past year they been fortunate to have a full-time employee help with irrigation and making hay. They have found that ranching can also take a village, which they learned during the 2013 Doce Fire.  As the wildfire roared down the north side of Granite Mountain, heading to one of the BHD Ranch properties, several other local ranchers helped them gather the cows, calves and bulls of that pasture and haul them to safety. It was a surreal experience for Kim and Dave while the slurry bombers flew low over head.
When not ranching, Kim is also a proud supporter of the Prescott Western Heritage Foundation.  She loves being involved in an organization that preserves, promotes, and protects western heritage.
For more information about Broken Horn D Ranch, visit www.BHDRanch.com; the ranch's Criollo Beef is available for purchase at The Honeyman Stores in Prescott and Prescott Valley.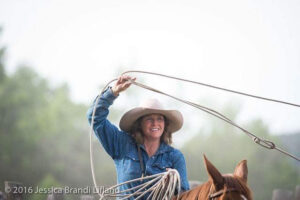 Amy Hale – Forest Service cowboy and storyteller
Amy Hale has lived in the Prescott area for more than 14 years, relocating here from Texas, where she worked big commercial cattle operations. When she moved to Prescott, her husband, Gail Steiger, said, "I don't need you to cook for me, or clean for me, and I do my own laundry. What I need is for you to get on your horse and ride."
She hit the ground galloping and has spent the entirety of her time in Prescott earning her paycheck cowboying on a Forest Service grazing allotment—50,000 acres of Prescott National Forest. Amy described it as, "one of the roughest, most beautiful places I have ever lived."
Amy feels honored to be immersed in the natural world daily, to be in close contact with species other than her own, to be a part of something bigger than herself, to be uninsulated from the weather and the land so that she might be more fully grounded. Spending 40 to 60 nights of the year sleeping on the ground, cooking over a fire with her mare by her side; nothing can compare to that kind of intimacy with Mother Earth.
Amy shares her stories, songs, and poems about cowboying, ranching, and life both on stage at Prescott Western Heritage Foundation and also in her number of published books, which include two novels, two nonfiction books, and one book of poetry.
Amy shared this story about one experience:
Thin and old, ears edged with gray—he sticks his head around the tailgate as I put coffee on the camp stove, five a.m. An old shipper bull volunteered into camp last night, singing an ancient ballad in a forgotten key. He wears a year brand; we've done the math. Bought from Webbs when he was two, so that makes him fifteen now. Whipped out by the young bucks, he's been living solitary off in some lonely canyon. Drawn now to the sound of social…babies bawling over the roar of branding pot, shippers protesting, perhaps even the distant memory of hay thrown out into dusty pens, he hung around overnight. Perhaps he finds me odd, this woman, frying Spam and eggs, smelling of burnt hair and horse sweat, black coffee and sleep, the blood of his great-grandsons splattered on my shirt—this woman, feral around the edges, for whom luxury is ice in her evening drink, the promise of a shower three days from now. Whatever this old bull thinks, or what I think, life moves on from our dawn tailgate communion. Someday I'll ride home. Someday he'll get on the truck… unless he disappears again, singing his rusty old song. 
For more information about Amy Hale and to purchase her published works, visit www.Amazon.com and search for Amy Hale Auker; or stop into the Prescott Western Heritage Foundation; she shares on her Instagram @just_call_me_spike.