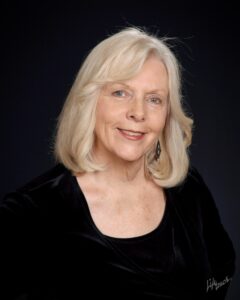 Sandy Nelson has authored five mystery novels under the pen name S. Resler Nelson. She grew up in Redding, California, and wrote short stories and a novella in high school. She attended San Francisco State University and continued creating short stories and award-winning poetry while pursuing her career as a high school English and art teacher in Southern Oregon.
When she retired from teaching, Sandy and her husband, Paul, escorted tour groups to Australia and New Zealand, seven African nations, and coun­tries in Europe, Asia, and South America.
It wasn't until 2015 that she wrote and published her first novel, More Than Dead, in the popular Luke Hudson Mystery Series. In her next book, she applied her overseas travels in a Kenyan safari mystery, More Than Gone.  More Than Bad and More Than Lost are set in Arizona, where protagonist Luke Hudson becomes a sheriff. She just released her newest book, More Than Dark.
Sandy lives in Prescott, Arizona, with her husband and their two beloved Shetland sheepdogs.
Her mysteries are rated 4.5 to 5 stars on Amazon and Kindle. Purchase them locally at Peregrine Books and The Purple Cat.